Client Testimonials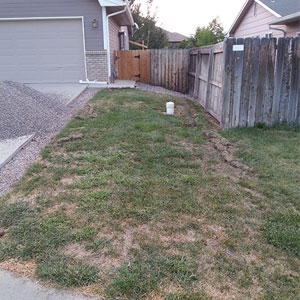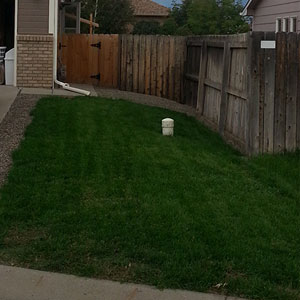 SoilTek saved our yard!  We purchased a HUD home and the yard had been neglected for over a year.  If it weren't for weeds, there would be no green at all.  I pulled weeds, applied Scott's Weed and Feed twice, sprayed Bayer's Season Long Weed Control, and the weeds flourished.  A friend recommended Steve Casano and SoilTek as he used organics to treat lawns.  She said Steve took care of their yard and it was gorgeous.  We needed a pump and the sprinkler heads needed to be replaced/adjusted as the heads were misaligned and not covering the yard sufficiently.  Steve could take care of that also.  He aerated, seeded, applied compost and fertilizer, and the difference is amazing!  Anyway, since a picture is worth a thousand words, I've included before and after photos of our yard.  This is just after one month.  Can't wait to see it next spring!  Worth every penny!
-Kelly & Kathy Messamer
Steve did three applications on a set of control Merlot vines over the course of a year at Two Winery. The control plants after the first application showed noticeable difference in comparison to those untreated. Foliage showed much healthier growth, deep lush green, noticeably better internode growth distance, and faster overall growth. By the second application fruit set had started and the ensuing fruit set was better on the plants treated versus those untreated. After veraison, (fruit coloring and finishing prior to harvest) fruit on the treated vines showed better balance in terms of overall chemistry (sugars & acids), higher cluster weight, and better appearance. I believe that the treatments provided by Steve led to much healthier plants, better fruit, better water use and retention by the plants, and better overwinter potential. And, it's organic!
-Tyrel Lawson
Kahil Winery
To Disappointed Lawn Owners:
Five years ago I tore out my crabgrass lawn and replaced it with new 'top soil', sprinklers and expensive sod. The sod went downhill getting thinner and sicker looking by the month in spite of regular lawn service and daily watering. I called a horticulturist who asked what I had done to which he responded, "The best thing to do would be to tear it all out and start over."! I sought another answer and found Steve Casano with SoilTek. He explained the new top soil had heavy clay with high alkaline and salt levels devoid of nutrients. He further explained chemical fertilizer would leach through leaving the grass starving for water and food. He came in and aerated, then applied microbes and water soluble compost. He also injected microbes and compost into the soil around shrubs and trees especially the large maple tree with pale burnt leaves. A similar maple tree, in my neighbor's yard, was already near death in spite of being injected with fertilizer by another company. Steve told me to water thoroughly about once a week when the grass was looking stressed!
To say a miracle of nature took place is accurate. I have had numerous people stop by and ask what I had done for my lawn. This summer will be the third year. The grass is coming out of dormancy earlier than before, thicker than ever with less thatch. Steve is going to work on that come April when the soil is warm enough for the microbes to digest the organic materials, create nutrients, and reduce high alkaline salt levels.  Less watering also helps by not adding alkaline on the soil. This approach cost more at first but typical chemicals were hard on the environment and got me nowhere. I commend to you, SoilTek with Steve Casano. His approach is working for my lawn!
Sincerely,
John Morgan